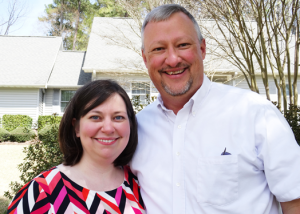 CENTRAL, S.C. – Amanda Link Harris, a Southern Wesleyan University graduate, was recently named Teacher of the Year at Walhalla High School. Dale Link, her father, and also a Southern Wesleyan graduate, was named Teacher of the Year at Tamassee-Salem High School.
Amanda, who was born into a family of educators, never really considered a career other than teaching.
"I watched my family members treat this profession as a true calling, not just a paycheck," Amanda said. "My childhood days of playing school with all the recycled handwriting practice sheets and math manipulatives sparked my interest as well."
Dale Link earned a theology degree in 1985 at Southern Wesleyan, when it was known as Central Wesleyan College. Amanda earned her BA degree in English education in 2008 and her master of education degree in classroom leadership from SWU in 2014.
Watching his parents work as missionaries in the training of pastors and Christian workers for ministry instilled in Dale an early interest to go into Christian education.
"I decided to enroll at SWU because the university has made a commitment to the families of Wesleyan missionaries," Dale said, adding that since his parents were under active assignment with Wesleyan World Missions (now Global Partners), he was eligible to receive full tuition assistance at SWU.
"If it were not for the patient, nurturing and caring faculty and staff at SWU, I would not be where I am today," Dale said.
After graduating from SWU, Dale went on to earn his secondary education degree in Spanish at Clemson University and a M.Ed. in Spanish from Furman University.
Dale also taught at Seneca High School when Amanda was a student there. Amanda continues to use some ideas based on observing her father's teaching style when she was taking Spanish 1 and 2 from him. He also assisted Seneca High's softball coach, looking for activities he could do with his daughters, who would help the team out in various ways. He continued as an assistant coach when he went to Tamassee-Salem High, becoming head softball coach upon the retirement of the coach he was assisting.
Although teaching high school isn't without its challenges, Amanda enjoys watching a student have a change of heart when engaged in activities such as reading a book.
"Nothing trumps the feeling I have when students who say they hate reading come up to me with smiles on their faces, wanting to tell me how much they loved this book," she said. Amanda also likes teaching students who are beginning to feel independent as they approach adulthood. "I love to watch them learn to question the world and develop their own views on life," she said.
Another family member in the classroom is Dale's daughter and Amanda's sister, Andrea Link Battles, a 2011 SWU education graduate who teaches math at West-Oak High School. All three teach in the School District of Oconee County.
Amanda and Andrea are also third-generation SWU graduates. Bonnie Pridemore Tippey, their maternal grandmother, graduated from the university in 1948 when it was known as Wesleyan Methodist College and taught school for more than 30 years. Sheryl Tippey Link, their mother, graduated in 1976 and taught first-grade at Central Elementary for more than 30 years.
Southern Wesleyan University is a Christ-centered, student-focused learning community devoted to transforming lives by challenging students to be dedicated scholars and servant-leaders who impact the world for Christ. For details about degree programs, go online to swu.edu.