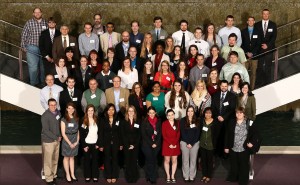 On February 12, over 70 students and faculty from SCICU member institutions met at the Milliken & Company Customer Center in Spartanburg, SC. The students presented on the topics which they researched for the SCICU Undergraduate Student/Faculty Research Grant.
Nine member colleges participated in the presentations including Anderson, Coker, Converse, Erskine, Furman, Limestone, PC, SWU, and Wofford. The students presented their work and interacted with other student researchers and faculty from SCICU member institutions.
Presentations covered topics ranging from cancer research to geology to the recent independence referendum in Scotland.  (A full list of projects is available here.) 
The research symposium was sponsored by:
Belle W. Baruch Foundation
BlueCross BlueShield of SC
Bryan Family Foundation
Charles W. and Elizabeth H. Coker Foundation
Joan S. Coker
Daniel-Mickel Foundation
Duke Energy
Mills B. Lane Memorial Foundation
SCICU, Inc. Endowment Fund
The grant program is off to a running start for this year, as well. We are looking forward to seeing the research projects that our students will present in 2016!