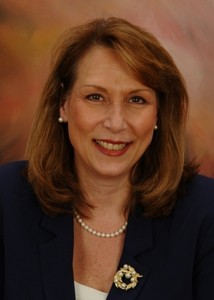 Spartanburg, SC – Dr. Colleen Perry Keith, President of Spartanburg Methodist College since 2009, has been named president of Pfeiffer University. The announcement was made by the trustees of the Misenheimer, North Carolina college. Pfeiffer also has campuses in Charlotte and Raleigh-Durham and is a sister college in the United Methodist connection.
"While we are sad to be losing Dr. Keith, we know that this is a great fit for her skills and experience and a wonderful next step for her career as a college president," said Dr. Phinnize Fisher, Chair of the Board for SMC. "Dr. Keith has been an exceptional leader for SMC and will bring her outstanding gifts in administration and fundraising to bear for Pfeiffer's benefit. She is widely regarded throughout the field of higher education as a thoughtful and effective leader. SMC's loss is Pfeiffer's benefit."
Under Keith's leadership, SMC has completed a major funds campaign, increased its capacity for fundraising, raised its public profile across the state, expanded its alumni programming, started two new degree programs, and taken on capital projects including the construction of Ellis Hall. SMC's enrollment has remained strong throughout Keith's tenure and the college's outstanding athletic programs have continued to thrive in competition at the national level.
Beyond the campus, Keith has become an active volunteer in the Upstate. She serves on the boards of the Spartanburg Area Chamber of Commerce, which she chairs; the Mary Black Foundation; the Greer Education Foundation; the Arts Partnership; the Spartanburg Academic Movement; Spartanburg Regional Hospital's Hospice Home; and Habitat for Humanity of Spartanburg County. On the state level, she chairs the President's Council for the South Carolina Independent Colleges and Universities organization and is the secretary for the South Carolina Tuition Grants commission. On the national level, she is the past president of the National Association of Schools and Colleges of the United Methodist Church and continues on its board.
"Anyone who knows me knows that I will miss SMC and my Pioneers. This is a great college and one that plays a very important role in getting students started on their higher education journey. Of everything we have accomplished over the past six years, I am most proud of the fact that SMC is no longer the 'best kept secret' in the Upstate. People recognize the value that we offer and our amazing success rate (85% of SMC students go onto complete their college education elsewhere, compared to 20% nationally for two-year colleges) is evidence that we are doing an exceptional job at implementing our mission. Even though I am moving onto what is next for me, SMC will continue to thrive and provide an outstanding higher education start for thousands more students for at least the next 104 years!"
Keith will begin her duties at Pfeiffer University on July 1. The SMC Board of Trustees will launch a search for Keith's replacement in the next several weeks.
###
SMC is South Carolina's only private, residential college exclusively for freshmen and sophomore students and one of only four colleges in South Carolina affiliated with the United Methodist Church. SMC's mission is to transform lives in a values-oriented, student-centered atmosphere in the Christian tradition that encourages academic excellence, intellectual exploration, social awareness, and character development within the liberal arts tradition. Spartanburg Methodist College, founded in 1911, is proud of its heritage of providing "the opportunity TO BE your best and the inspiration TO DO great things."
For more information contact: Yvonne Harper, Director of Public Information at (864) 587-4278 or harpery@smcsc.edu