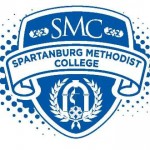 Spartanburg Methodist College received word last month they were selected from over 2000 clients for a Visionary Award from Hobsons.
Hobsons, founded in 1974, helps educators, administrators, students and families maximize success through every stage of the learning life cycle. Hobson's personalized learning, academic planning, post-secondary enrollment, and student support solutions serve millions of students across more than 7,500 schools, colleges, and universities worldwide.
According to Amanda Davis, Client Success Manager for Hobsons, "a visionary is someone who can anticipate future changes in recruitment, enrollment or retention and will adapt accordingly. The Visionary Award is awarded to a client partner who is living out the SLM (Student Lifecycle Management) mentality."
Last year's winner was Central Texas College. In addition to SMC, the nominees for this year's award included Florida International University – Graduate School of Business; University of Oklahoma and University of Wisconsin-Stout.
Davis shared that "working with SMC was a phenomenal experience." In addition to their visionary award, SMC will be used as a case study for Hobsons. SMC, a longtime Connect user, wanted to optimize efficiency and time management within their admissions workflow, so Hobsons conducted a thorough audit of their Connect usage and found that SMC would be a good candidate for migration to its new SLM tool, Radius. "SMC was not fully utilizing Connect," says Admissions and Enrollment Marketing Director, Mike Queen. "Even without the migration to Radius, the audit would have been an eye-opening experience and would have driven numerous changes to our recruitment strategies."
Spartanburg Methodist staff liked the simple interface, organization, and intuitive design, and Queen appreciated Radius' relational data model. "It gives a true student lifecycle view from the minute students inquire to 10 years from now," he says. "It has absolutely changed how we think about data and our entire process in our office." The thing that really sold Spartanburg Methodist was the communication plan and how counselors could reach out to a certain demographic in a matter of minutes. "This was important to me because my counselors can build personalized communication plans for their population without us having to do that for them," he says.
Queen admits that he was nervous about the implementation process, but discovered that the migration from Connect to Radius was seamless. In fact, after initially planning for extensive, weekly staff training sessions, he ended up canceling several days of scheduled meetings because counselors caught on so quickly. "That dread of learning something new went away very quickly," Queen says, adding that ample support and training were available when needed.
Queen worked with a dedicated project manager at Hobsons who guided him through the migration and quickly answered any questions he had. "Hobsons executed and delivered on everything we requested," Queen added. "They have been a tremendous partner to us."
Spartanburg Methodist is already recouping its investment in Radius by identifying areas where they can save money. "It's actually expanding my marketing budget and allowing me to provide more professional development opportunities for my staff," he explains.
Since Spartanburg Methodist implemented Radius, the acceptance date to deposit date for engaged applicants decreased from 14-21 days to about 7-10 days. Additionally, Spartanburg Methodist has reduced its advertised 48-hour turnaround time for applications to a 24-hour window. "This is not a static database for us," Queen says. "This is an additional counselor – that's how powerful it is for us."
###
SMC is South Carolina's only private, residential college exclusively for freshmen and sophomore students and one of only four colleges in South Carolina affiliated with the United Methodist Church. SMC's mission is to transform lives in a values-oriented, student-centered atmosphere in the Christian tradition that encourages academic excellence, intellectual exploration, social awareness, and character development within the liberal arts tradition. Spartanburg Methodist College, founded in 1911, is proud of its heritage of providing "the opportunity TO BE your best and the inspiration TO DO great things."
For more information contact:  Yvonne Harper, Director of Public Information, Spartanburg Methodist College C: (864) 266-7409 / O: (864) 587-4278 /harpery@smcsc.edu / www.smcsc.edu