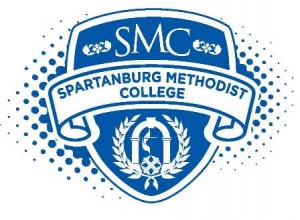 Spartanburg, SC – Spartanburg Methodist College has been notified that they were selected as the prestigious statewide award winner of South Carolina's Career Preparedness Award for ACT's College and Career Readiness Campaign.
Spartanburg Methodist College, a two-year private, residential, liberal arts institution, is one of a very few such institutions left in the United States. SMC plays a vital role in preparing students for success in careers and in senior colleges. SMC's "success rate" (the sum total of students who either graduate and transfer or transfer prior to graduation into educational programs elsewhere to complete their higher education journey) is 86%. The national success rate for 2-year colleges is in the 20% range.
Founded in 1911 as the first cooperative education program in the United States, SMC has a strong 104 year history of providing resources for education and for life. "Starting in the Fall 2015, SMC is devoting two of its Learning Communities to an in-depth focus on career decision making, which will further extend the College's reach into career readiness work," according to SMC President Colleen Perry Keith, Ph.D.
Bobby Russ, District Manager of State Organizations, reached out on behalf of ACT and shared "Our council membership felt that your application and data demonstrated that Spartanburg Methodist College made significant strides in helping its students prepare for the success in the workforce or in continuing their education."
SMC's Counseling and Career Center utilizes a variety of assessment tools, such as a Career Personal Profile assessment, Personality Type Inventory, the SIGI, SDS, etc., to help students develop greater self-understanding and begin the process of lifelong growth and professional development. Working with their SMC advisors, students can evaluate their career goals and make appropriate course selections and transfer options with senior colleges.
"Spartanburg Methodist College's programs are aimed at career awareness, our success rate, and our support structures that are in place for students and our demonstrated commitment to providing leadership opportunities for students outside the classroom were all factors that catapulted SMC to the top of the list," shared Keith.
Students at SMC have opportunities to begin to develop as leaders from the first day they arrive on campus through a variety of programs and opportunities. Students are provided a Leadership and Involvement Transcript that documents the activities that have enhanced their liberal arts education.   SMC's President plays a key leadership role in the community, and members of the faculty and staff are involved in numerous professional and service groups, in addition SMC has been recognized by the President's Honor Roll of Service for the past several years.
Spartanburg Methodist College will go on to a selection processes for national semifinalists of other statewide college exemplars as part of this ACT Campaign. The selected finalist will be recognized as the National Exemplar and will be honored at an ACT Gala in Washington, DC on June 9th.
To learn more about the ACT College & Career Readiness Campaign and view highlights from prior years, visit www.act.org/readinesscampaign.
###
SMC is South Carolina's only private, residential college exclusively for freshmen and sophomore students and one of only four colleges in South Carolina affiliated with the United Methodist Church. SMC's mission is to transform lives in a values-oriented, student-centered atmosphere in the Christian tradition that encourages academic excellence, intellectual exploration, social awareness, and character development within the liberal arts tradition. Spartanburg Methodist College, founded in 1911, is proud of its heritage of providing "the opportunity TO BE your best and the inspiration TO DO great things."
For more information contact: Yvonne Harper, Director of Public Information, (864) 587-4278 or harpery@smcsc.edu