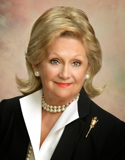 COLUMBIA, SC — South Carolina Independent Colleges and Universities has named Representative Rita Allison the 2016 SCICU Legislative Champion. Rep. Allison's career is marked by her intense interest and passion for the importance of education as a lever to strengthen the state's global and economic competitiveness, improve income and job security for individuals, and offer new opportunities for increased workforce development.
Rep. Allison was first elected to the South Carolina House of Representatives in 1992 and served through 2002. She was a member of the House Ways and Means Committee and chair of the K-12 and Special Schools Sub-committee. Rep. Allison was the vice chair of House Operations and Management Committee, the Joint Legislative Committee for Families and Children, and in 1994-96, chair of the General Assembly's Women's Caucus, which she founded during her tenure. She also served as chair of the Spartanburg County Legislative Delegation and was the House Assistant Majority Leader.
After an unsuccessful campaign for Lt. Governor, Allison served as Education Advisor and later Legislative Advisor to Governor Mark Sanford. Her hard work and dedication earned her the first Terry Haskin's Legislative Leadership Award and the prestigious Order of the Palmetto, the highest honor given to an individual by the State of South Carolina.
Her strong desire to continue to serve her Lyman community and state led to Rita Allison's re-election in 2008 to her former seat in District 36 (Greenville and Spartanburg counties). Rep. Allison is currently the chair of the House Education and Public Works Committee, a position she has used to focus on the educational needs of South Carolina from early childhood to college. House Speaker Jay Lucas also appointed her chair of the House Education Policy Review and Reform Task Force in response to the State Supreme Court's decision in the Abbeville case.
Earlier this year Rep. Allison sponsored legislation authorizing the South Carolina Commission on Higher Education to enter into the State Authorization Reciprocity Agreement (SARA). The purpose of SARA is to establish an efficient system for accredited degree-granting institutions offering distance education or student placement to receive authorization from states other than their home state, by placing the responsibility for regulation, quality assurance, and student protection on the institution's home state. Gov. Haley signed Rep. Allison's bill into law on March 14.
Students from SCICU member schools will gather at the State House for Independent Higher Education Day on April 13 to honor Rep. Allison and present her with the 2016 SCICU Legislative Champion Award.