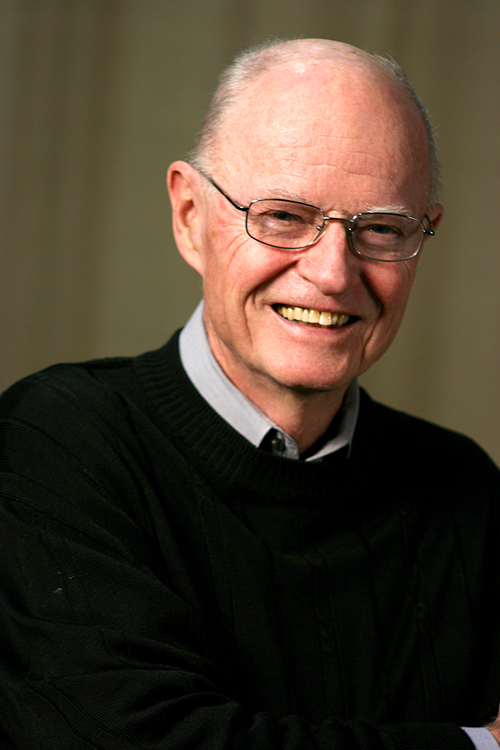 COLUMBIA (CIU – Melissa McCutchan and Bob Holmes) — In the last months of the life of Columbia International University President Emeritus Robertson McQuilkin, when his health was declining, his close friend and former CIU Vice President John Davidson would visit him and inquire how he was doing.
"He would say, 'Terrible,'" Davidson recalled.
"I would say, terrible? What's wrong?"
"He'd say, 'I'm still here. I want to be in heaven.'"
"Well now he is," Davidson told those who gathered at a memorial service in CIU's Shortess Chapel June 4. "And we rejoice."
J. Robertson McQuilkin, who served as CIU's third president from 1968-1990, went to be with the Lord on June 2, 2016. The family welcomed hundreds of CIU alumni, faculty, students, and members of the community to celebrate McQuilkin's life.
McQuilkin was eulogized by colleagues, friends, and children who shared about his worldwide influence among evangelicals, his deep love for his family, and his longing for his heavenly home.
"He loved extravagantly, and we're going to miss him so much," said his daughter, Amy Barber. "But we're so glad he's with Jesus."
Humble Acts of Service
McQuilkin's accomplishments were many. After graduating from Columbia Bible College (now Columbia International University) and Fuller Theological Seminary, he served as the headmaster of Ben Lippen School, and as a church planter in Japan, before returning to his alma mater to serve as president.
However, for all his accomplishments, those at the memorial service remembered him more for his humble acts of service. His children recalled him taking them on special trips and throwing surprise birthday parties for them; his friends remembered his faithfulness in prayer and writing letters of encouragement; his students remembered him for his energy and his desire to disciple them. And of course, those who knew him remembered his devotion to his first wife Muriel who suffered from Alzheimer's disease. His decision to resign as CIU's president to care for her full time still reverberates around the world.
Muriel – "Those years of care"
Delivering the sermon at the funeral was McQuilkin's friend of 50 years, Dr. John W.P. Oliver, a former CIU board member. Oliver was chairman when McQuilkin told him in 1989 that he needed to resign to care for Muriel. Oliver says he successfully talked McQuilkin out of that decision, something he regrets to this day. But he said McQuilkin came back with the same request a year later, saying: "John, if you're my real friend, don't try to talk me out of it."
That was just one experience in the life of McQuilkin that Oliver recounted correlating to McQuilkin's life verse on how the believer is transformed into the image of Christ:
Now the Lord is the Spirit, and where the Spirit of the Lord is, there is freedom. And we all, who with unveiled faces contemplate the Lord's glory, are being transformed into his image with ever-increasing glory, which comes from the Lord, who is the Spirit. (2 Corinthians 3:17-18)
"Change," Oliver began. "The care (for Muriel) for which he is famous – and let the Christian world not forget (it), the students who pass through here – let them not forget it – (it's) the gold standard, those years of care."
"A Spiritual Giant"
Many of those associated with CIU over the years chatted for over an hour after the service recalling the many ways McQuilkin impacted their lives.
"I remember boundless energy, rigorous intellect, and the profound respect people had for him," said current professor Dr. John Crutchfield, who as a student, met with McQuilkin when he was president.
"I had lunch with him a couple of times, a couple of us guys got together, and we would just hammer him with questions, and [his] wisdom and the godliness [was remarkable]."
Under McQuilkin's leadership, CIU's enrollment doubled and seminary programs expanded.
"Mr. McQuilkin was the president who hired me," said Dr. Bryan Beyer, who is now the dean of the College of Arts & Sciences. "When I first started, I had very little experience, and … I've always appreciated that he took a chance on me."
McQuilkin maintained a presence on CIU's campus even in his last years of life. Current students and recent graduates also fondly recall having lunch with him in the dining hall.
"Looking at the legacy he left, there's this man, this spiritual giant who's written books that I've spent hours pouring over … and here he is just making casual conversation with me and my friends in the cafeteria," said 2016 graduate David Craft. "This school's definitely going to be missing a spiritual giant."
Finishing Well
In the course of his 88 years of life, McQuilkin spoke numerous times about the importance of ending well in careers, ministries, and all of life.
Few, [McQuilkin] used to tell me, finish well," said his friend John Davidson. "Sir, you finished well. You finished very well."
Memorials may be made to the Robertson McQuilkin Memorial Fund at memorial.ciu.edu.