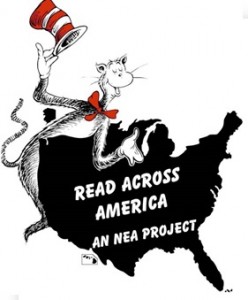 Orangeburg, S.C. – Hundreds of young students from Orangeburg Consolidated School District 5 and local child development centers will enter a storytelling wonderland on Monday, March 2, during a celebration of Read Across America Day at Claflin University.
The program, sponsored by the Division of Student Development and Services/Office of Career Development, will begin at 10 a.m. in Tullis Arena in the Jonas T. Kennedy Health and Physical Education Center.
Featured readers will be OCSD5 Superintendent Ms. Cynthia Wilson, Claflin Vice President for Administration Mr. Drexel Ball and Mrs. Alice Carson Tisdale, Claflin's first lady and director of the Honors College. They will read Dr. Seuss books that incorporate the Orangeburg County Community of Character Trait of the Month for March, respect.
In addition to reading Dr. Seuss classics, the program will feature cheers, chants and songs led by Claflin students, as well as appearances by favorite Dr. Seuss characters, the Cat in the Hat and Thing 1 and Thing 2.
The National Education Association's Read Across America Day is a nationwide reading celebration that takes place annually on March 2 – or the day closest to March 2 – Dr. Seuss's birthday. It's a day when thousands of schools, libraries and community centers nationwide bring together kids, teens and books to promote literacy. For more information, visit http://www.readacrossamerica.org/.
###
Founded in 1869, Claflin University is recognized by national publications such as U.S. News and World Report, Forbes.com and Washington Monthly as one of America's best liberal arts colleges. The University proudly serves the state of South Carolina, the nation and the world. Its beautiful historic campus is home for approximately 2,000 students from every region of the United States and more than 20 international countries. Claflin students demonstrate extraordinary achievement, distinctive confidence and a lifelong desire to transform society through visionary leadership. Its academic programs prepare students to compete and succeed in a global and technological society.
Outstanding alumni include Chief Justice of South Carolina Supreme Court (Ret) Ernest A. Finney, Jr.; renowned photographer, author and publisher Cecil Williams; internationally recognized artist Leo Twiggs; Vela McClam-Mitchell, president/CEO and owner, Georgia International Travel; and the eighth president of Claflin University, Dr. Henry N. Tisdale. For more information, visit claflin.edu or GoToClaflin.com.