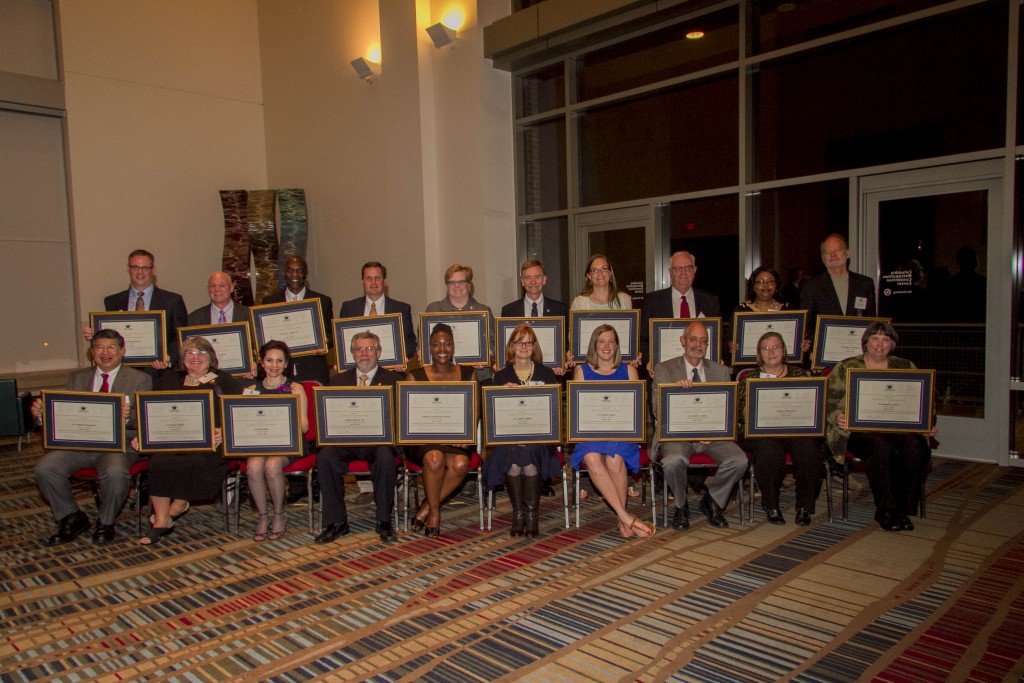 COLUMBIA, SC — SCICU presented Excellence in Teaching Awards to twenty professors from its member colleges and universities at the 11th annual Excellence In Teaching Awards Dinner on April 12, 2016. Nearly 200 persons, including members of the South Carolina General Assembly, college faculty members, SCICU Trustees, and family members of the award recipients joined in this celebration of higher education and teaching excellence at SCICU's member independent colleges and universities in South Carolina.
In addition to recognition at the awards dinner, the 2016 recipients each received a $3,000 professional development grant from SCICU.
Collectively, the 2016 Excellence In Teaching award recipients have substantial professional depth and knowledge, and their areas of teaching include the sciences (mathematics, biology, and physics), religion, political science, criminal justice, languages, music, and the arts.
SCICU is honored to present the following professors as Excellence In Teaching Award recipients for 2016:
Allen University – Dr. Tomohiro Kawaguchi
Anderson University – Dr. Tammy Haislip
Benedict College – Dr. Nuria Rojas
Charleston Southern University – Professor Alan R. Fix
Claflin University – Professor Annette Dees Grevious
Coker College – Dr. Cathleen Cuppett
Columbia College – Dr. Marlee B. Marsh
Columbia International University – Dr. David G. Cashin
Converse College – Professor Ruth Beals
Erskine College – Dr. Naoma S. Nelsen
Furman University – Dr. Kevin Richmond Hutson
Limestone College – Dr. David B. Thompson
Morris College – Dr. Jacob E. Butler, Jr.
Newberry College – Dr. Bret Clark
North Greenville University – Dr. Becky L. Thompson
Presbyterian College – Dr. Robert A. Bryant
Southern Wesleyan University – Professor Emily Germain
Spartanburg Methodist College – Professor Mark Holycross
Voorhees College – Professor Gayle Tyler-Stukes
Wofford College – Dr. Peter L. Schmunk
A photo gallery of all award recipients may be viewed here.
The support from generous sponsors helps make the annual Excellence in Teaching Awards program possible. SCICU gratefully acknowledges the following sponsors for their support of the Excellence in Teaching Awards Dinner for 2016:
ABM Solutions
Aramark Higher Education
NBSC
Sodexo
SC Student Loan Corporation
TD Bank
TIAA
Total Comfort Solutions
Vulcan Materials Company