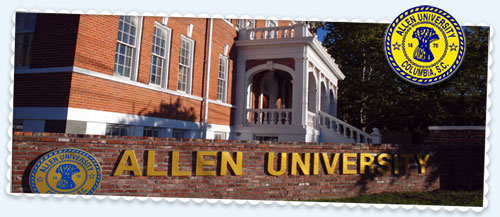 Columbia, South Carolina – Allen University mourns the loss of three alumni killed in the historic Mother Emanuel – African Methodist Episcopal (A.M.E.) church on June 17th in Charleston, South Carolina.
Please join Allen University and the public community on Thursday, June 25th from 5:30-7:30 pm for a Pray for World Peace vigil.  This event is in honor of Allen University alumni Dr. Daniel Lee Simmons, Jr. (Class of 1967), Senator Clementa Pinckney (Class of 1995), Mr. Tywanza Sanders (Class of 2014), the other Charleston, S.C. victims, victims worldwide and their families.
The vigil will take place in the John Hurst Gymnatorium, 1517 Pine Street, Columbia S.C. 29204.   All are welcomed. 
Allen University is a private, coeducational institution located in Columbia, South Carolina.  It is fully accredited by the Southern Association of Colleges and Schools Commission on Colleges to award baccalaureate degrees.  To learn more about Allen University, please visit www.AllenUniversity.edu.
Press Contact:
Dr. Flavia Eldemire
Vice President of Institutional Advancement
Allen University
Phone: (803) 255-4742
Advancement@allenuniversity.edu
www.allenuniversity.edu