The SCICU Board of Trustees recognized two outstanding independent college and university students at its annual meeting and awards luncheon on September 24 at Wofford College. Chosen from dozens of applicants by the prestigious Center for Scholarship Administration, this year's award recipients are Chad Sauvola from Wofford College and Cole Harper from Columbia International University.
J. Lacy McLean SCICU Student of the Year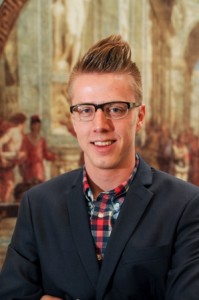 Chad Sauvola, a senior at Wofford College, is the J. Lacy McLean SCICU Student of the Year. The award is presented annually by SCICU to an outstanding student attending one of South Carolina's 20 private, non-profit colleges or universities. The award includes a $2,000 scholarship.
The Greer resident is extensively involved in research in the biology lab. For him, "Working at the interface of knowledge is an absolutely addictive thing."
In addition to spending three years in biology labs at Wofford College, Sauvola just returned from a summer internship in a molecular neuroscience lab at MIT. He spent the summer before that in a similar lab at the University of North Carolina Chapel Hill. Now Sauvola is in Denmark for a semester abroad, where, because of a contact he made at MIT, he will be conducting research in yet another lab at the University of Copenhagen.
In addition to majoring in biology at Wofford, Sauvola is an art history minor who plays the piano. He's also an active member of Beta Beta Beta Biological Honor Society. Sauvola plans to enroll in a Ph.D. program in microbiology after he graduates from Wofford. His first choice is MIT, but he's also considering Harvard, Yale and Princeton.
"For me, college has been incredibly important, and it wouldn't have been possible without financial aid from sources such as the South Carolina Tuition Grant," says Sauvola. "I'm very thankful that I've gotten the opportunity to be in this type of environment where I'm challenged and pushed to learn as much as I can." 
The J. Lacy McLean Award was established in 1987 by friends of J. Lacy McLean in honor of his 34 years of service to higher education, particularly among private, non-profit colleges and universities. The award recipient must be a South Carolina resident who has performed well academically and who has demonstrated those traits characterized by the life of Lacy McLean, including commitment to public affairs, community service, and leadership. The nominee must be a rising senior at an independent four-year college or a rising sophomore at an independent two-year college.
 Sterling L. Smith Scholar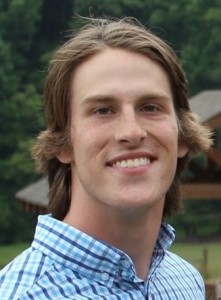 Cole Harper, a junior at Columbia International University, is the Sterling L. Smith Scholarship recipient for 2014. Mr. Harper is pursuing a Bachelor of Science degree with majors in Bible and Youth Ministry, Family, & Culture. The award is presented annually by SCICU to a student who qualifies for a Higher Education Tuition Grant and includes a $1,000 scholarship.
A resident of Columbia, Mr. Harper is first and foremost a man of faith. He is in his fifth year of involvement with Young Life, a ministry to high school students, with a goal to see a generation of young, Jesus-loving leaders change their schools and community for the better. He is also active in his church, serving on the worship team and in other capacities.
Mr. Harper has been recognized for many achievements including National Merit Finalist, a Gold Card Scholarship recipient, a Board Scholar (for excellence in academics and servant-leadership), and an Alumni Referral Scholarship recipient.
Committed to academic excellence, Mr. Harper studies hard to maintain straight A's, while balancing two part-time jobs. He serves as a page for the South Carolina House of Representatives and as an usher at the Koger Center for the Arts.
After college, Mr. Harper plans to work for Young Life, where he will continue to employ his God-given talents and leadership abilities to see people redeemed and communities transformed by the power of Jesus.
Funded through gifts to South Carolina Independent Colleges and Universities, Inc., the scholarship was established in 1996 to honor the legacy of Sterling L. Smith for his relentless years of service to higher education. Sterling L. Smith was instrumental in crafting the development of the South Carolina Tuition Grants Program. All nominees must be rising sophomores, juniors, or seniors that are recipients of a South Carolina Tuition Grant, have performed well academically, and have demonstrated those traits characterized by the life of Sterling Smith, including leadership and commitment to public affairs.
 ###
The awards luncheon was generously sponsored by American Student Assistance, Aramark Higher Education, Elliott Davis, PLLC, E-Procurement Services, LLC, McMillan Pazdan Smith Architecture, PNCBANK, School Dude, Sodexo, Total Comfort Solutions, and the Wyche Law Firm.