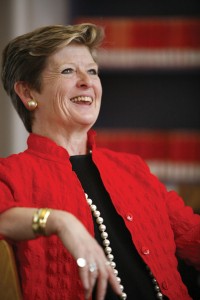 Dr. Georgia Nugent will give the keynote address at SCICU's Board of Trustees Biennial Retreat. The Retreat will begin with a reception and dinner on March 5, 2015, and conclude with a luncheon the next day. The Westin Poinsett Hotel in downtown Greenville will serve as the Retreat's venue.
Georgia Nugent, Senior Fellow at the Council of Independent Colleges (CIC), served as the president of Kenyon College from 2003-2013.  Before Kenyon's presidency, she held several administrative roles at Princeton University, including assistant to the president.  Prior to her administrative roles, Nugent was a professor of Classics on the faculties of Swarthmore College, Princeton University, and Brown University.  A member of the first class of women to graduate from Princeton, she later became the first alumna appointed to Princeton's faculty. She took her Ph.D. in Classics at Cornell University.  Nugent has received numerous teaching awards and was among the earliest lecturers included in the nationally distributed "Superstar Teachers" series of audio and videotapes.
Dr. Nugent leads the Council on Independent Colleges' Securing America's Future: The Power of Liberal Arts Education campaign.