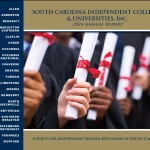 -The 2014 SCICU Annual Report is a celebration of the organization's accomplishments and the generous donors, patrons, and partners that made it all possible. The most recent report was published and distributed in mid-December. Additional print copies are available from the SCICU office upon request. An electronic copy can be downloaded here from our website.
-Microsoft, through its Corporate Citizenship program, donated four copies of its Office Professional Plus 2013 to the SCICU office. Valued at over $3,200, the software donation was facilitated by the non-profit reseller TechSoup. Many thanks to Microsoft, TechSoup, and to our Business Partner ScholarBuys, who introduced us to the program.
-Rep. James Merrill (Charleston) is the new chair of the Higher Education and Technical Colleges Subcommittee of the House Ways and Means Committee. He takes over from Rep. Chip Limehouse (Charleston) who chaired the subcommittee for more than 10 years. Other subcommittee members are Rep. Gilda Cobb-Hunter (Orangeburg), Rep. Garry Smith (Simpsonville), and Phillip Lowe (Florence). Only Rep. Smith was on last year's subcommittee. The Higher Education Subcommittee is the first rung on the legislative appropriations ladder and its recommendations often set the tone for final budget allocations.