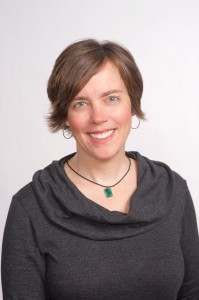 NEWBERRY, S.C. – Dr. Krista E. Hughes has been appointed director of the newly formed Muller Center at Newberry College and will hold a faculty role as associate professor of Religion.
A South Carolina native, Hughes has returned to her home state to manage the newly established Muller Center at Newberry College, which will provide programming and resources related to ethics, vocation and civic engagement.
"We are pleased to have someone with Krista's unique qualifications guiding the work of the new Muller Center," said Newberry College president Dr. Maurice Scherrens. "She brings a commitment to exploring best practices in the undergraduate classroom that will benefit our students and firmly establish the Muller Center as a strong proponent of vocation and service."
The Muller Center of Newberry College was made possible by the bequest of Mr. John D. Muller, Jr., a faithful Lutheran, committed environmentalist and generous benefactor to Newberry College. Muller directed that proceeds from the sale of property he donated to the College should be used, in part, to support students pursuing ministry in service to the Church and to the world.
Newberry College officials determined that the greatest potential impact for students would come from an academic program or center established in Muller's name. Offering opportunities for volunteerism, community-based learning, leadership development and vocational reflection, the Muller Center will encourage students to explore questions of civic responsibility and ask how their skills, knowledge and interests might be placed in service to the common good.
Muller Research Fellowships, the signature program of the Center, will provide support for students or faculty to conduct research, fieldwork, study away experiences or service-learning projects related to the core values of the Center. The Muller Travel Fellows program provides funding for students to pursue study away opportunities that relate to the Center's core values. The Center also will facilitate service-learning opportunities with community partners.
In keeping with the College's Lutheran liberal arts tradition, the Muller Center seeks to promote and practice the active engagement of all members of the College and its community partners in moral discourse, vocational reflection and civic involvement. The Center will host campus and community conversations about the urgent moral dilemmas facing 21st century society.
The Muller Center plans to host a biennial conference to engage the campus and local community in topics related to the mission of the Center. Because vocation is deeply rooted in the Lutheran tradition, the Center also plans to host an annual vocational discernment event intended to help individuals explore their life's purpose and calling, particularly those considering the call to public ministry or those engaged in ministry seeking guidance about refocusing their vocation.
Muller Center director Krista Hughes comes to Newberry College from Hanover College in Indiana, where she taught in the Theological Studies department, offering courses in contemporary theologies, gender studies and religious pluralism. She was a Fellow in Theology and Religion with the Wabash Center for Teaching and Learning in 2012-13 and participated in the American Academy of Religion and Luce Foundation's Summer Seminar in 2010-11 in the area of Theologies of Religious Pluralism and Comparative Theologies.
Hughes earned her Ph.D. in Theological and Philosophical Studies from Drew University (N.J.), her M.A. and M.Div. from Vanderbilt University, and her B.A. from Wofford College, where she majored in Spanish and Humanities.
As a constructive theologian, Hughes conducts research at the intersection of process and feminist thought, critical theory and the world's various wisdom traditions. She is particularly interested in exploring how classic Christian symbols inform ethical approaches to contemporary challenges, such as ecological degradation, global migration, race relations and interreligious engagement.