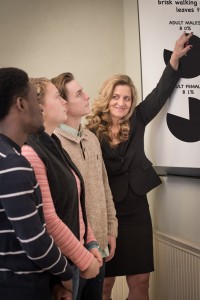 GAFFNEY, S. C. — Dr. Felicia Cavallini, a Professor of Physical Education at Limestone College, recently completed an 11-month Fulbright Scholar Student/Research Grant in Canada. Dr. Cavallini served at the University of Guelph as a Visiting Research Chair in the Human Health and Nutritional Sciences Department, and her primary focus was on physical activity and exercise, specifically regarding the excuse of "not enough time" as a barrier to exercise.
"Initially, the purpose of our research was to investigate those specific underlying barriers behind this popular, yet misleading, excuse," Dr. Cavallini said. "But what started off examining 'lack of time' barriers behind 80 percent of Canadians still not meeting the recommended 150 minutes of moderate to vigorous physical activity a week became way more meaningful and significant than what we originally thought."
While many people appreciate the significance and the benefit of exercise, an overwhelming number of those surveyed said that engaging in physical activity is a more natural, realistic, and enjoyable part of their day than exercise. They preferred to participate in more vigorous physical activity such as energetic yard work, brisk walking, or forcefully raking leaves.
Exploring that preference lengthened Dr. Cavallini's time in Canada. Originally scheduled to be away for one semester, she stretched that to well past two semesters, and more work is still being done. But she believes her team's research in the Great White North can change lives in Canada, the United States, and perhaps beyond.
"I didn't want to get there, identify a need, write a proposal, get through the Research Ethics Board, start the process, and then leave," she explained about her extended time. "It would not have been fair to the Guelph community or to Canada. I made the decision to go big or go home. The University of Guelph is known for its innovation and creativity, and time was essential in order for us to attempt to tap into what adults were truly thinking when it came to movement."
STARTING THE RESEARCH PROCESS
Quantitative studies and experiments on the topic of exercise have been done for years, but if the majority of people are still not engaged in physical activity, something is obviously not connecting with them. Dr. Cavallini set out to find out why.
"I started to wonder what could be done to possibly approach this study from a totally different angle in an attempt to chip away at what is really happening within our adult population," she said. "The idea in the initial phase was to make the research focus group driven, with the first phase being qualitative to attack it inductively, meaning we were going to start from the bottom up."
The first major task entailed gathering a total of 14 different focus groups that would vary in age, ethnicity, and gender, while also coming from both urban and rural communities, and private and public sectors.
"I didn't know a soul in Guelph but decided to jump into the community with both feet to organize the various groups," Cavallini noted. "That for me was my Fulbright experience. And until I met with all these people, I never realized, to this extent, the seemingly pervasive preference for engaging in the benefits gained from exercise through every day movement."
At the meetings, Dr. Cavallini had with her a group of undergraduate students who took notes during the facilitated focus group discussions.
"I had a list of questions for each group, but I wanted them to also talk freely," she said. "I wanted to know their perception of physical activity compared to exercise, and what barriers they encountered when it came to physical activity and exercise. With one group in particular, I asked the question: 'What comes to mind when you think about exercise?' And one woman answered, 'Darkness.' And then another girl said, 'Pain.' After meeting with seven or eight groups, some trends started to develop. But there was one in particular that continued to catch my eye as I kept reading through all the meeting notes. And that of course, was the preference to participate in energetic movement through every day activity rather than the conventional notion of exercise.
"They said that physical activity should be more normal to them than putting on lycra and going to the gym for the E word," she continued. "That blew me away because I didn't know there were that many people saying going to the gym was just not for them."
The commercials and advertisements focusing on the gym environment – which tends to come with the territory of traditional weight training, hard bodies, and ripped abs – do not resonate with most people, Dr. Cavallini explained, adding that a major paradigm shift is needed when it comes to how people are motivated, informed, and marketed to become more active.
The second phase of the project was to go back to those same community groups with a research-generated survey to quantify what the team members thought they were hearing from the first phase.
Although the results of that second phase found that many people appreciate the significance and the benefit of, 80 percent of adult males and 81 percent of adult females surveyed revealed that engaging in physical activity is more enjoyable than exercise.
"My quest is to educate the public accordingly and to start designing templates where, for example, if you are gardening and you want to hit those moderate to vigorous exercise zones while pulling up weeds, planting flowers, carrying the bag of soil, etc., we can provide some specific ways to do that," Dr. Cavallini explained. "As we look to eventually publish our research, intervention strategies are being developed on both sides of the border to improve our health and quality of life.
"While in Canada, the faithful group of undergrads who assisted with the study formed a student group called 'Get Moving Canada' to address these needs, and I would like to establish something similar at Limestone College," she continued. "I believe our students can effectively represent the implications of our current and future research projects for the betterment of our local, regional and national endeavors."
THE FULBRIGHT EXPERIENCE
Dr. Cavallini was informed of her selection by the J. William Fulbright Foreign Scholarship Board in March of 2014. The Fulbright Program was established in 1946 under legislation introduced by then-Senator J. William Fulbright of Arkansas. The Fulbright Program is sponsored by the U.S. Department of State's Bureau of Educational and Cultural Affairs.
"This was my first shot at a Fulbright, and I'm honored to have been selected," Dr. Cavallini said. "As a Fulbright recipient, I enjoyed being a research ambassador to Canada, and I am confident that my experience will benefit Limestone College and the surrounding community. I can't express enough how much I appreciate everyone who helped to make this happen – from Limestone College to my friends and family, and to my wonderfully understanding husband, James Taylor. He is an Air Force veteran, and appreciates what a tour of duty means, even in the realm of academics. That is why I was able to build momentum in Canada and bring that back to the United States to keep it going."
Dr. Cavallini originally applied to teach and do research at St. Francis Xavier University in Nova Scotia, but instead she was awarded a grant to be Visiting Research Chair in Human Health and Nutritional Sciences at the University of Guelph, which is about one hour outside of Toronto in Ontario, Canada.
She said one of the highlights of her trip was being asked to organize a visit to Guelph by the Public Affairs Section of the U.S. Consulate General from Toronto. Dr. Cavallini arranged the Consulate to meet with both the President of the University of Guelph and the Mayor of the City of Guelph, as well as academic deans of various colleges on campus and various heads of departments representing the city. The main objective was to improve relations between the United States and Canada through commerce, business, culture and academic exchange programs.
Dr. Cavallini also arranged for Dr. Michael Hawes, the CEO of Fulbright Canada, to visit the University of Guelph to implement various visiting research chair positions on campus, including a nutritional sciences chair position in Human Health and Nutritional Sciences. Dr. Hawes is interested in visiting Limestone in the near future to potentially establish a position at the College.
In September of 2015, Dr. Cavallini was selected for the Fulbright Canada Peer Review Committee, comprised of four professors from around the United States. In addition to Limestone, the members represented the University of Arizona, Harvard University, and Vanderbilt University.
The committee met in Washington, DC, in October to decide on the final group of applicants to be handed over to Canada to make the ultimate selection and placement of Fulbright candidates for the fall of 2016 and spring of 2017.