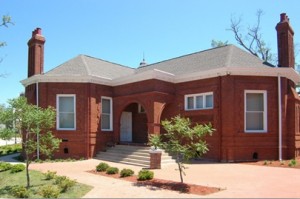 Orangeburg, S.C. – Claflin University's Arthur Rose Museum will get a facelift when The Home Depot and Claflin's Friends of the Earth student volunteers provide landscaping and repairs to the structure's exterior on Friday, November 7.
Claflin was awarded $10,000 from The Home Depot in its 2014 "Retool Your School" campus improvement program. This is the first time the University has won one of the awards, in a field that included more than 60 HBCUs. Claflin students, staff, faculty, alumni and friends who voted online for several weeks earlier this year contributed to the University receiving the grant.
The Arthur Rose Museum hosts a number of art exhibitions, receptions and other events each year for the University and surrounding community. The building originally housed Claflin's library and is more than 100 years old. It was constructed by Claflin University students.
What: The Home Depot "Retool Your School" at Claflin University
Who: Representatives from The Home Depot, members of Claflin's Friends of the Earth student organization and University administrators. Media interviews will be available at 3:30 p.m. with participating students, Home Depot representatives and Claflin administrators. The public is invited to a brief closing ceremony and check presentation at 4 p.m.
When: 8 a.m.-4 p.m. Friday, November 7, 2014
Where: Arthur Rose Museum , Claflin University 400 Magnolia Street  Orangeburg, SC 29115
To participate in the media interviews, please call Charlene Slaughter, assistant vice president for communications and marketing, at 803-535-5077 or Wendy Jeffcoat Crider, public relations coordinator, at 803-535-5751.
###
 Founded in 1869, Claflin University is recognized by national publications such as U.S. News and World Report, Forbes.com and Washington Monthly as one of America's best liberal arts colleges. The University proudly serves the state of South Carolina, the nation and the world. Its beautiful historic campus is home for approximately 2,000 students from every region of the United States and more than 20 international countries. Claflin students demonstrate extraordinary achievement, distinctive confidence and a lifelong desire to transform society through visionary leadership. Its academic programs prepare students to compete and succeed in a global and technological society.
Outstanding alumni include Chief Justice of South Carolina Supreme Court (Ret) Ernest A. Finney, Jr.; renowned photographer, author and publisher Cecil Williams; internationally recognized artist Leo Twiggs; Vela McClam-Mitchell, president/CEO and owner, Georgia International Travel; and the eighth president of Claflin University, Dr. Henry N. Tisdale. For more information, visit claflin.edu or GoToClaflin.com.