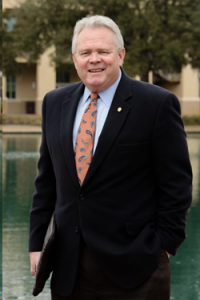 Louisiana College trustees have elected Dr. Rick Brewer as its next president. Brewer, who served 28 years at Charleston Southern University, held the position of vice president of student affairs and athletics.
"Cathy and I will be forever grateful to Jairy and Sissy Hunter for their friendship and the opportunity to serve our alma mater these past 28 years," said Brewer. "I've learned invaluable leadership lessons from my relationship with senior officer colleagues, trustees, South Carolina Baptist Convention pastors, board of visitors, Buccaneer Club board of directors, staff, coaches, alums, and students which will continue to guide our ministry and work going forward. Indeed, our roots go deep at CSU, so deep that our leaving could only happen if the Lord 'uprooted' and moved us onward. We covet the prayers of our CSU family as we assume the presidency at Louisiana College."
Brewer served as the Director for External Relations (1987-1989), Assistant to the President (1989-1995), Dean of Students (1995-2001), Interim Director of Athletics (1999-2001), and Vice President for Planning and Student Affairs (2001-2009) and Vice President for Student Affairs and Athletics since 2009. He been a member of the President's Cabinet since 1989.
"Dr. Rick Brewer is a strong Christian leader with extensive experience in strategic planning and budgeting, enrollment management, revenue development, student development, athletics and Christian ministries," said CSU president Jairy C. Hunter. "He has provided visionary and exemplary leadership for 28 years as a senior officer at Charleston Southern University."
Brewer earned a PhD in Educational Leadership and Policies with cognates in Management and Higher Education Administration from the University of South Carolina, and an MBA and BS in History from Charleston Southern. He also completed post-graduate certifications at both Harvard and Duke.
Brewer officially takes office at Louisiana College on April 7.