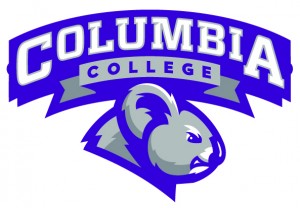 Columbia College officially launched a new trademarked Koalas athletics logo featuring a fierce koala mascot in profile with the College's signature purple.
The College created the new athletics logo to replace the twenty-six year old "Fighting Koalas" logo as part of a multi-year, institution-wide repositioning. Working with Joe Long of Black Barn Brand Design in Columbia, the College set out to create something modern, collegiate and more stylized. Click here to see more about the creative process.

"We're the only collegiate koala mascot in the country, so we had a unique opportunity to create something that would stand out and build pride among our players, coaches, fans and alumnae," said athletics director Kellyann Stubblefield. "Our athletic program has tremendous momentum and there is great enthusiasm on campus to see the new look on apparel, online and in our facilities."
The logo is available for use by Columbia College's ten Koalas athletics teams and others throughout the College. Official apparel using the new logo will be for sale through the College's bookstore and online this summer. The logo is already finding a home on athletics uniforms, player and coaches' apparel, and other apparel and publications throughout the College.

"Our goal was to create a visual identity for our athletics program that was more in-line with the strength of today's Columbia College student athletes," said Tracy Bender, executive director of marketing and communications. "This original design is a great new look and is already building excitement and generating school spirit around athletics."

In the past three years, the athletic program has grown from seven to ten sports, and student athletes make up more than twenty-five percent of the student body. The Koalas also hold the title of National Champions of Character from the National Association of Intercollegiate Athletics, recognized as the only program in the country earning a perfect score based on exceptional student-athlete grade point averages and by having minimal to no ejections during competition throughout the course of the 2013-2014 academic year.

Learn more about Columbia College athletics at www.gokoalas.com. For information or permission to use the logo, contact Tracy Bender at tbender@columbiasc.edu or Kellyann Stubblefield at kstubblefield@columbiasc.edu. Visit: : http://gokoalas.com/landing/index

###
Contact: Tracy Bender, 803.312.4154 , tbender@columbiasc.edu
About Columbia College
Recognized by U.S. News and World Report as a best value institution and ranked among the best regional universities in the south, Columbia College is a dynamic learning and living community, where students, faculty and staff work together to build leaders our communities need most. Founded 160 years ago by the United Methodist Church as a women's, liberal arts college, Columbia College also offers evening, graduate and online programs serving both women and men. Columbia College is known for its emphasis on leadership and service and is home to a nationally renowned honors program led by the 2010-2011 United States Professor of the Year. Learn more at columbiasc.edu or connect with @columbiakoala.