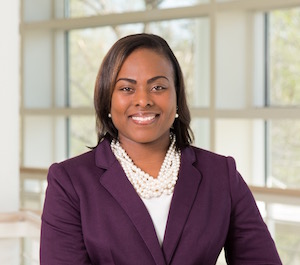 COLUMBIA, SC — Columbia College announces the appointment of Monique McDaniels as Executive Director of Marketing and Communications. She will report directly to the president and will be a member of the College's senior executive team. In this role, she will be responsible for all of the College's marketing and brand management across all platforms, including the web and social media and will lead public affairs initiatives such as media and community relations.
McDaniels joins Columbia College after working as the executive clerk to Richland County Council, where she served as spokesperson and managed county council media and public relations. Prior to Richland County Council, McDaniels was the public information director for the South Carolina Department of Health and Human Services where she coordinated messaging, managed publications, led community outreach, improved the website and expanded social media. She also served for four years as the public information officer and community liaison for the Richland County Sheriff's Department, where she managed media inquiries and crisis communication, and coordinated all television programming and appearances.
President Beth Dinndorf said, "Monique brings to Columbia College a wealth of knowledge and expertise. I am delighted to welcome her to the executive team and our campus community. Her work with Richland County and other agencies brings invaluable insight to our outreach efforts and marketing initiatives."
A graduate of Francis Marion University, McDaniels earned her bachelor's degree in political science and a master's in public administration from Clemson University. She is currently pursuing a doctoral degree. She is also a certified economic developer and law enforcement officer, and is a graduate of Leadership Columbia and Columbia College's LeaderSHIFT program for women executives.
McDaniels began her new role on March 14, 2016.