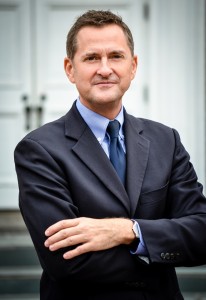 Hartsville, S.C. – Mar. 4, 2015 – William Carswell, associate provost for academic affairs and associate professor of music at Coker College, has been selected to participate in the 2015-2016 Senior Leadership Academy.
Co-sponsored by the Council of Independent Colleges and the American Academic Leadership Institute, the Senior Leadership Academy is a year-long program for mid-level administrators in higher education who aspire to senior leadership positions in independent colleges or universities. Participants will acquire knowledge, skills and experience central to the work of a college or university vice president or cabinet officer.
"It is an honor to be selected as one of 25 participants nationally in the CIC Senior Leadership Academy beginning this summer," said Carswell. "I am looking forward to the seminars, mentorship, case studies and the professional development opportunities such a program affords. My goal has been and continues to be to serve this institution through effective leadership. I am excited to see how the Academy experience will help me do that more successfully."
The program consists of two seminars led by current and former presidents and vice presidents, readings concerning senior campus leadership, a Professional Experience Plan, mentorship by the participant's nominator and the program director, executive career coaching and structured conference calls with the participant's mentor and the program director.
"Having one of our own involved in this program is a wonderful opportunity," said Coker College President Robert Wyatt. "Will is already a leader across campus and a strong asset to this institution, and we are thrilled that he has been given this opportunity to build on those skills. I have no doubt that he will represent Coker well and benefit all of us greatly from his experience."
The Academy's program director is Tom Kepple, president of the American Academic Leadership Institute and president emeritus of Juniata College. He is the former vice president of business affairs at Sewanee: The University of the South and former provost of Rhodes College. The Senior Leadership Academy is supported by the American Academic Leadership Institute and Academic Search, Inc.
Carswell has served as associate provost for academic affairs at Coker College since December 2013. In addition to his responsibilities as associate provost, he has served as associate professor of music in the department of dance, music and theater since the fall of 2002, teaching courses on choral conducting, music methods, choral techniques, and directing several music ensembles. Carswell earned a Doctorate in Musical Arts from the University of South Carolina, a Master of Music degree from Florida State University, and a Bachelor of Music Education degree from Appalachian State University.
Release written by media relations coordinator Elizabeth McCarley.
– – – – – –
Coker College readies undergraduates for personal and professional success through a distinctive four-year program that emphasizes a practical application of the liberal arts as well as hands-on and discussion-based learning within and beyond the classroom. Coker is ranked among the "Best Colleges" in the South by U.S. News & World Report as well as The Princeton Review. Located in Hartsville, S.C., Coker is within two hours of the cultural, financial and recreational resources of Charlotte, Columbia, Charleston and Myrtle Beach.