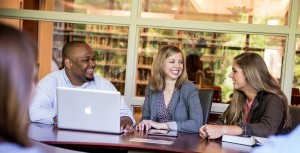 Hartsville, S.C. – Oct. 13, 2014 – Coker College has continued a streak of record-breaking enrollment growth with its most recent class of incoming students.
"It is encouraging, as we continue to expand our campus with additional housing and the recently opened DeLoach Center, to witness continued enrollment growth and student involvement," said Coker College President Robert Wyatt. "Even with our campus improvements, I believe our enrollment success is ultimately driven by the personalized experiences offered by our faculty that engage students with customized learning opportunities in and out of the classroom."
Coker records have been broken by this year's enrollment. The new class includes the largest number of new performing and visual arts majors in college history (53), as well as 24 new Honors Program enrollees—more than double last year's number. Coker has remained consistent on other measures within this year's enrollment class, including new freshman total (230) and new student total (303).
"Seeing students return to campus in the fall is always an exciting time," said Steve Terry, vice president for student enrollment services. "After a year of hard work recruiting and assisting our latest group of incoming students, it is especially rewarding for those who work in admissions, financial aid and campus life to witness enrollment success."
The college is in the midst of its largest growing period ever. As outlined in the strategic plan, "Destination 1500," Coker is aiming for 1,500 students – 1,000 traditional undergraduate and 500 Adult Degree Program and graduate – over the next few years.
"I am proud of Coker's enrollment accomplishments and I am eager to begin working on next year's class," said Adam Connolly, associate vice president for enrollment management. "Coker's incoming class reflects the leadership, diversity, and academic caliber that Coker prides itself on."
To accommodate the continued growth, over the past four years Coker has opened three new living-learning communities to enhance student housing. The three units are the Downtown Lofts (2011), the Downtown Flats (2012), and the Betty Y. and Charles L. Sullivan Hall (2013). Sullivan Hall rests at The Village at Byerly Place, which will hold six residence halls upon completion. Most recently, Coker has also expanded with the new Harris E. and Louise H. DeLoach Center. The multi-purpose athletics facility includes a main gymnasium with a seating capacity of 1,908 in stadium-style retractable bleachers.
For information about admission to Coker College, visit https://www.coker.edu/future-students or call 843-383-8050.
Release written by media relations coordinator Elizabeth McCarley.
Coker College readies students for personal and professional success through a distinctive program that emphasizes a practical application of the liberal arts as well as hands-on and discussion-based learning within and beyond the classroom. Coker is ranked among the "Best Colleges" in the South by U.S. News & World Report as well as The Princeton Review. Located in Hartsville, S.C., Coker is within two hours of the cultural, financial and recreational resources of Charlotte, Columbia, Charleston and Myrtle Beach.