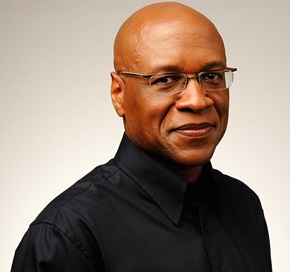 Orangeburg, S.C. – Claflin University's Visionary Leadership Institute will welcome acclaimed writer Roy S. Johnson for an open forum session at 11 a.m. Thursday, March 19, in the Grace Thomas Kennedy Auditorium.
The forum is free and open to the public.
A native of Tulsa, Okla., Johnson received his bachelor's degree from Stanford University in California in 1978. Since then, he has carved out his place as one of America's most accomplished sports journalists and managers, and currently serves as director of sports for Alabama Media Group. He is a former Sports Illustrated assistant managing editor; Men's Fitness vice president and editor-in-chief; History Channel magazine and digital editor-in-chief; and was founder and editor-in-chief of Savoy. Johnson also served as editorial director for Savoy's parent company, Vanguarde Media.
Johnson has contributed columns for Yahoo! Sports and ESPN.com, been an on-air sports commentator on numerous national networks, co-executive produced an ESPN 30-for-30 documentary, served as editor-at-large for Fortune magazine, and helped produce national TV and radio content for Sports Illustrated. He co-authored autobiographies with Earvin "Magic" Johnson, Charles Barkley, and former NBA champion/coach and current ESPN commentator Avery Johnson.
Johnson was a staff writer at The New York Times from 1981 to 1987, covering the NBA and tennis and writing features. He founded the fitness and nutrition venture and website Fit!Live!Win!, and runs his own sports blog, Ballers, Gamers and Scoundrels.
In addition to his professional credentials, Johnson is a longstanding member of the National Association of Black Journalists; a board member of the International Amateur Athletic Foundation; and helps oversee the Bill Spiller/Homeboy Golf Classic. He created the Roy S. Johnson Foundation, which provides financial assistance to minority youth from his hometown who are interested in pursuing an education at the prestigious Holland Hall Preparatory School, Johnson's alma mater.
Johnson's visit is part of the VLI's Visionary Leader-in-Residence program, which allows individuals who have demonstrated exceptional leadership in their field and career to assist Claflin students and faculty – and the University itself – in any number of ways. Leaders can lend their expertise to specific projects, provide advice and suggest improvements to the Claflin curriculum, help with establishing project partnerships, etc. The position is designed to be flexible to allow Leaders-in-Residence to participate in any way they choose.
For more information about Claflin University's Visionary Leadership Institute, visit http://www.claflin.edu/vli/home.
###
Founded in 1869, Claflin University is recognized by national publications such as U.S. News and World Report, Forbes.com and Washington Monthly as one of America's best liberal arts colleges. The University proudly serves the state of South Carolina, the nation and the world. Its beautiful historic campus is home for approximately 2,000 students from every region of the United States and more than 20 international countries. Claflin students demonstrate extraordinary achievement, distinctive confidence and a lifelong desire to transform society through visionary leadership. Its academic programs prepare students to compete and succeed in a global and technological society.
Outstanding alumni include Chief Justice of South Carolina Supreme Court (Ret) Ernest A. Finney, Jr.; renowned photographer, author and publisher Cecil Williams; internationally recognized artist Leo Twiggs; Vela McClam-Mitchell, president/CEO and owner, Georgia International Travel; and the eighth president of Claflin University, Dr. Henry N. Tisdale. For more information, visit claflin.edu or GoToClaflin.com.