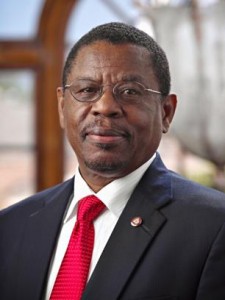 "HBCUs have played a unique role in transforming the landscape of higher education in the United States," said Claflin University President Henry N. Tisdale at the February 11 Congressional hearing on legislation to reauthorize the Historically Black Colleges and Universities (HBCU) Historic Preservation Program. "This program helps to preserve our nation's diverse history and contributions of HBCUs for future generations."
The reauthorization of the Historic Preservation Program (H.R. 295) will provide $10 million annually through 2025 to restore and preserve historic structures on HBCU campuses through grants administrated by the National Park Service. The resolution was proposed by Rep. James Clyburn (D-SC).
"We are deeply grateful to Congressman Clyburn for championing this cause for over twenty years," said Tisdale, a 1965 graduate of Claflin. "Without his help, some of our nation's most historically significant structures on HBCU campuses would be lost forever."
In the 6th Congressional District of South Carolina, historic buildings at Allen, Claflin, and South Carolina State universities and Voorhees and Benedict colleges have been successfully restored. To date, 59 institutions in 20 different states have benefitted from the program. However, authorization for this program has expired, and no funds have been appropriated since the Recovery Act in 2009.
"The reauthorization of the HBCU Historic Preservation Program is urgently needed," said Tisdale. "We must save the treasures on the National Register of Historic Places that are deteriorating on our campuses due to lack of resources for restoration."
According to a 1998 study by the Government Accountability Office, the historic preservation needs at HBCUs at that time were estimated to be $755 million, with 712 historic properties in need of repairs or structural renovations.
Tisdale calculates that the amount would be over $1 billion in today's dollars.
In 1999 and 2000, Claflin received $1 million from the HBCU Historic Preservation Program to restore historic Ministers' Hall, built in 1913. Founded in 1869; it is the oldest HBCU in South Carolina. Claflin is located in Orangeburg, S.C.
"These funds enabled the painstaking reconstruction of the architectural details of the building, particularly its roof and the main hall's two gable monuments, said Tisdale.
Today, the building reflects the heritage of Claflin and is a vibrant performing arts center for the campus and community. It also houses the Ernest A. Finney Jr. Library, named in honor of South Carolina's first African-American Chief Justice who is a Claflin University graduate.
"The HBCU Historic Preservation Program also enables HBCUs to meet the 21st century educational needs of our students – for state-of-the art instructional, research and residential facilities, as well as equipment and technology," Tisdale said. "Today's technology demands cannot be accommodated in buildings that are over 100 years old without substantial and costly infrastructure investment. Moreover, because HBCUs are an integral part of their communities, refurbishing these buildings helps to revitalize local economies by restoring infrastructure and providing jobs."
A private four-year liberal arts university enrolling nearly 2,000 students, Claflin is among 37 private HBCUs supported by UNCF (United Negro College Fund). Claflin was selected the 2015 AARP/HBCU Digest HBCU of the Year by HBCU Digest. U.S. News and World Report has consistently ranked Claflin as one of "America's Best Colleges" for the past 17 years and the magazine again ranked the University a top tier national liberal arts college. Washington Monthly ranked Claflin the number-one liberal arts college in South Carolina and the top HBCU in the nation in its 2015 annual College Guide.
"Funding Rep. Clyburn's resolution is a very important first step for providing necessary financial support for HBCUs," said Tisdale in his closing remarks. "What HBCUs have accomplished is a success story. It's a story that we can continue to tell through the restoration and renovation of the historic buildings on our campuses."