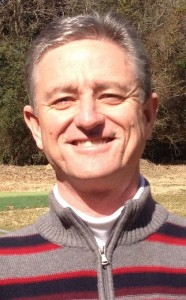 A familiar name in golf around the Columbia area has been named the first men's golf coach at Columbia International University.
George Bryan III is a native of the Midlands who golfed for the University of South Carolina in the early 1980s. After college he pursued a professional golfing career, teaching golf and implementing golf-related entrepreneurial and educational endeavors for over 25 years.
Bryan created the Irmo-Chapin Recreation Commission Golf Program and was instrumental in various golf initiatives in South Carolina schools through the South Carolina Junior Golf Association (SCJGA). He also created the George Bryan Golf Academy located at various golf courses throughout the Midlands helping juniors and adults improve their game. In addition, Bryan has been an adjunct professor in the physical education department at the University of South Carolina.
CIU Athletics Director Kim Abbott says CIU is privileged to have Bryan as he readies for CIU's inaugural golf season this fall.
"George Bryan not only has the knowledge and passion for golf, but his love of the Lord and his desire to create a CIU team that will serve God through the game of golf makes him a perfect fit for CIU and its mission," Abbott said.
As for Bryan, he says coaching at CIU is what he has been looking for at this point in his life.
"I've been praying for an opportunity over the last year to serve Jesus in both my personal and business life," Bryan said. "Coming to CIU has been God's answer to my prayers."
CIU will also begin its first season of women's soccer this fall. CIU has added five sports since entering intercollegiate athletics in 2012. Other sports include men's soccer, men's and women's basketball, men's and women's cross country, and men's and women's track. www.ciuathletics.com.
##
Founded in 1923, Columbia International University is private, Christian and multidenominational. CIU specializes in Bible-centered professional development that prepares students to impact the nations with the message of Christ in ministry and the marketplace. The university is recognized for its emphasis on biblical authority and world evangelization. www.ciu.edu
Contact: Bob Holmes, Communications Manager / Columbia International University / (803) 807-5071 /  bholmes@ciu.edu