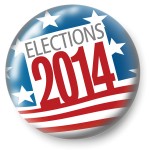 Five candidates for South Carolina Governor participated in two televised debates leading up to the November 4 general election. And both debates took place on the campuses of SCICU members.
The October 14 debate took place on the campus of Charleston Southern University in North Charleston while the October 21 debate was held on the campus of Furman University in Greenville. These were the only debates involving all the candidates for governor held during the 2014 campaign.
Participating in the debates were incumbent Governor Nikki Haley (R), State Senator Vincent Sheheen (D), Tom Ervin (I), Steve French (L), and Morgan Reeves (UC).