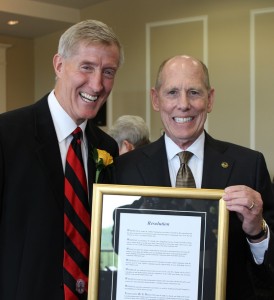 As announced earlier this year, Dr. James B. "Jimmy" Epting will retire June 1 after serving NGU for 36 years, the last 24 years as president. North Greenville University celebrated the life and leadership of Dr. Epting at a chapel service and luncheon Wednesday, April 29, on the Tigerville campus.
Hundreds of students, friends, and family members packed the Turner Chapel and Music Building to witness a joyful worship service led by Dr. Epting, lead vocalist with the Southern Gospel group, the President's Quartet. At the following luncheon, community and school officials paid tribute to Dr. Epting for his many personal and professional accomplishments.
Anderson University President Evans Whitaker and SCICU President Mike LeFever presented Dr. Epting with a Resolution on behalf of the SCICU Board of Trustees. Dr. Whitaker provided additional remarks on behalf of the independent college and university presidents. Known for his good cheer and strong hugs among his many friends and colleagues, Jimmy Epting's commitment and support of SCICU will be missed.
Dr. Randall Pannell, NGU's vice president for academics, will serve as interim president while NGU's Board of Trustees conducts a search for Dr. Epting's successor.