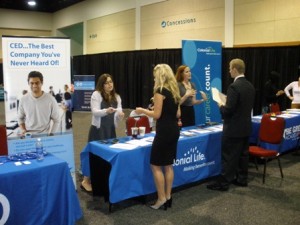 Students from SCICU's member colleges and universities will meet, greet, and interview with prospective employers on February 9 at the Career Connections Job Fair in Columbia.
This event, which has been presented annually for more than 20 years, is held exclusively for students attending the twenty (20) SCICU member schools.
Representatives from over 40 private sector companies, non profits, and federal/state government agencies will be on hand to discuss available full-time, part-time, and intern opportunities.
Career Services Directors and representatives from the SCICU member colleges work closely with SCICU staff in preparing for this annual event.
For more information regarding the Career Connections Job Fair, please contact SCICU via phone at 803-799-7122. Other event-specific information may be accessed on the event page.