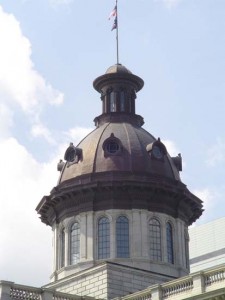 The 2016 SCICU student aid campaign kicked off with the December 6, 2015 Campus Legislative Coordinators meeting hosted at the Capital City
Club in Columbia. All 20 SCICU member colleges and universities were represented at this meeting, with 31 campus legislative coordinators in attendance.
Craig Parks, Senior Research Analyst for the Senate Finance Committee, presented the Campus Legislative Coordinators with a state budget
briefing. Coordinators also received an update on the Tuition Grants program from SCTGC Executive Director Earl Mayo. Lobbyists Derial
Ogburn and Mike LeFever gave coordinators an overview of what to expect from the 2016 General Assembly.
The consensus from the presenters is that while there could be more than $1 billion in unobligated funds available for the FY 2016-17 state budget, there are unprecedented needs, including rebuilding the state's roads and bridges, increased funding for K-12 education as a result of the State Supreme Court's Abbeville decision, and FEMA general cost share match and other expenses associated with the historic October 2015
flooding. With so many competing priorities, advocates for student financial aid must work extra hard to have their voices heard.
SCICU Executive Vice President Eddie Shannon reminded Campus Legislative Coordinators that they are the major key to the success of
the annual letter writing campaign to SC legislators. The SCICU letter writing campaign has historically been one of the most effective ways for making positive impressions and impact
on South Carolina lawmakers. During 2015, tuition grant recipients attending SCICU member colleges wrote more than 8,000 thank you letters to their respective House or Senate members. The 2015 letter writing campaign concluded with the student rally at the State House on SC Independent College and University Day on April 15, 2015. The upcoming 2016 rally is
scheduled for April 13, 2016.
Shannon outlined the objectives and approach of the 2015 letter writing campaign. He also recognized the highest achievers of the 2015 letter writing campaign. North Greenville University
and Lisa Van Riper received the award for most total letters (1, 525). Allen University and Michelle Lucas received the award for the highest percentage of Tuition Grant recipients to write letters (80%).
The SCICU Legislative Coordinators work to support SCICU's 2016 Legislative Priorities, including:
Working to increase funding for need-based Tuition Grants by $2.53 million (allowing the maximum annual student award to increase from $3,100 to $3,200),
Full funding of merit scholarships (Palmetto Fellows, LIFE, HOPE and Tuition Assistance), and
Funding an additional $4.54 million for CHE need-based grants and $1.5 million for PASCAL.