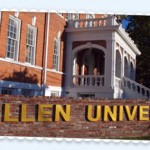 The death of nine parishioners at Emanuel AME Church fell particularly hard on Allen University which counted three of its alumni among the dead. To mark the event and remember all who died, Allen University and President Lady June Cole held a Pray for Peace Vigil on June 25.
Among the many remembrances was a heartfelt and moving poem written by Dr. Charlene M. Spearen especially for the vigil. Dr. Spearen is Assistant Professor of English, Director and Co-founder of the Langston Hughes Poetry Center, and Interim Vice President of Academic Affairs at Allen University.
 We are the nine …
…like the pause/between dusk and darkness/ between fury and peace,/ but, for such as our earth is now, it lasted long."                                                                                                                       –Derek Walcott "The Season of Phantasmal Peace"
i
Depayne Middleton Doctor
Baby, pin a star on me.
Come quickly, see the light in my eyes,
call me lady, this lady blossomed
four dazzling girls, and like fallen leaves,
a natural reshaping of what was
into what is, God's way of being the helping
hand to grow back flowers: black-eyed susans,
inpatiens, golden marigolds that smile back
at the sun, I will, with the Lord's helping hand,
grow the flower of forgiveness while I continue
to live-out inside the light of your imagination.
ii
Cynthia Hurd
Baby, pin a star on me.
The lord's word was written down
in a great book, and I heard His message,
heard right from the start the music of words,
the rhythm of serving the notes of learning,
Knowledge unlocking-click
Minds unlocking-click
Growing in the light-click
Understanding the lost energy of a frown-click
Respect for what the lord gives-click
How a misshapen view, like a pulled trigger-bang-bang
can teach us how to live inside the fire of forgiveness.
iii
Susie Jackson
Baby, pin a star on me
The winds of time cycled a good many paths
through my garden, and honey there is no use
bringing politics into my journey, we all know
Jim Crow, his story.  Crows still eat the budding corn,
rioting words still, like spilled honey, spread  over
a baby's cinnamon skin.
I am now still and cold
so sing to me of hanging stars
church hymns that rock the altar
and dark trees that can never hide the rising sun.
iv
Ethel Lance
Baby, pin a star on me.
I know the meaning of real work
how to serve the lord, the shaft of pain,
how sitting idle can invite the devil in
can come dressed in an innocent face
sheep's clothing (black churches never
were a safe place), but share this, on Sunday morning
I was Ms. Ethel. Amen, you talk about recreation!
God's house was always my palace.  Honey, never
get lost in the motion, despair's bottomless sea, never
bury hope in the past, stare-down hypocrisy
conjure out of this the rising of a new day.
v
The Rev. and SC State Senator Clementa Pinkney
Baby, pin a star on me.
I know many houses swim with tortured
elocution, ugly words roll off tongues
like a fired gun. This is why God told me
to walk with all my brothers and sisters,
to preach his word, we are their keepers.
Friends, go down the road
go, then, go to where action affirms God-given rights
moves,  rolls magic,  a holy drum roll, be like a preacher
preaching the miracle of forgiveness.
Wash this church clean, go forth, go forth
wash the world clean.
vi
Tywanza Sanders
Baby, pin a star on me.
Mom says I am her hero.
I never set out to be one, just wanted
to live, be a good Christian, be a good son
a good person, a good poet. To spread
a real message, make things better.  O say can you
see…a better future, politicians always need new
jumpstarts, willy-nilly waddle through fields
filled with white lilies. Snip, snip, buzz
buzz carry my name, our blood flowing like
stoplights. There is always the need for hoodooing
new songs, new lyrics wooing daybreak and the cock's
crowing three times. Celebrate the call and response
woven inside my shimmering poems and my words:
Why are you doing this…  
vii
Brother, Rev. Dr. Lee Simmons
Baby, pin a star on me.
Our Father, Heavenly Father, Lord Father,
you have heard me pray these words
when despairs' dark moan and creak
fills the soul. But today we are standing
on the deck of new beginnings.  I want
to be in this, be with my family, church family,
pray with the enemy who brings darkness
into a holy, summer, night, cry out Jesus,
halleluiah. Tell them not to give in, not one bit,
believe in God, always, His will
will be done.  Night always ends with a clear
register for a new day, the hope of a holy amen.
viii
Rev. Sharonda Coleman-Singleton
Baby, pin a star on me.
I was transformed by love,
became of a visible burning
in my home, my church, served, all
saw no difference, really, Mother,
Mother Church, Mother World, Mother
Nature is the hand of God, can walk in
on a soft breeze, fly like a fly-ball even when
I was setting a Sunday-dinner table. Time will
pass, at first a moment here and there like
a fleeting world, we will breathe regular breaths,
unfeeling as it seems, but always depend
on the Lord's promises, and how hitting a home-run
can happen inside one simple prayer.
ix
Myra Thompson
Baby, pin a star on me.
"Everyone who drinks of this water will thirst again;
but whoever drinks of the water that I will give him
shall never thirst…" Samaritan women are everywhere,
inside a classroom, inside the corner store, inside a church,
placing flowers on a alter, slowly like a photo taking form,
they shape the world. Teach, preach far and wide
love, compassion, knowledge that expands the mind. Look into
my round, brown, eyes, pocketbook my gently smile, minister
the sick, sick of body, sick of mind. Keep a white drees, white
leather pumps, white gloves, white hat in your closet,
let your skin shine and remember we are the Emanuel nine.
–Charlene Spearen, 2015