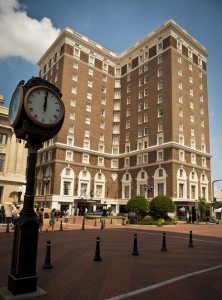 Every two years, the SCICU Board of Trustees meet in an extended session to focus on higher education issues of significant importance to independent colleges and universities. The 2015 retreat will take place March 5 and 6 at the Westin Poinsett Hotel in Greenville.
The Retreat will begin with a reception and dinner the evening of March 5. Dr. Georgia Nugent will give the after dinner address. A Senior Fellow at the Council of Independent Colleges (CIC), Dr. Nugent leads the Council on Independent Colleges' Securing America's Future: The Power of Liberal Arts Education campaign. Dr. Nugent served as the president of Kenyon College from 2003-2013. A member of the first class of women to graduate from Princeton, she later became the first alumna appointed to Princeton's faculty and served in several administrative roles at Princeton University, including assistant to the president.
Following an early morning business meeting on March 6, Dr. David Warren, president of the National Association of Independent Colleges and Universities, will spotlight the critical higher education issues before Congress this session.
Dr. Jolley Bruce Christman, chair of the Jolley Foundation, will lead a session on higher education access and success. The program will feature the highly successful Bridges to a Brighter Future and SCICU's latest scholarship program that provides scholarships to Bridges graduates to any SCICU member college or university.
SCICU college and university presidents attending the retreat will participate in three interactive panel discussions. Spartanburg Methodist College President Dr. Colleen Perry Keith will moderate panel discussions with her colleagues on College Costs and Affordability, Retention and Completion, and Title IX and Other Regulatory Challenges.
At Friday's farewell luncheon, college presidents will host trustees and guests for table-top discussions during the meal.
SCICU Trustees are encouraged to Register for the Biennial Retreat on our website.